BBCA Tree Lighting and Holiday Party—More Details!
Get Ready for the Tree Lighting AND Holiday Party!
We are excited to announce more details about the BBCA's fast-approaching 2017 Tree Lighting and Holiday Party!

Many members will fondly recall our traditional events at the Community Center with Santa giving out gifts to the kids, or the elegant affair hosted by Karen George to mark the first event under our new BBCA name in 2015. Well…this won't be like that.

It is not easy to find a space large enough to fit a group the size of ours, and so we needed to entertain some creative ideas in an attempt to gather during this season of celebration. We have planned an event that will definitely be different—and it will be fun!

First, the BBCA Tree Lighting (with a visit from Santa)!
Join your fellow Barrier Beach residents for our annual tree lighting, with carols and a visit from Santa! The tree lighting will begin at 4:15 p.m. on December 9 in Oak Beach Park. This event will last about an hour, and will be a chance for BBCA families to gather and sing carols with their children. Santa will be arriving in style with goody bags for all children 12 and under. Please let us know how many children you will be bringing, so Santa's elves can prepare enough holiday surprises for everyone!

Then, the 2017 BBCA Holiday Party!
Immediately after the tree-lighting, an adults-only party will be graciously hosted by Tim and Jaime Harrison of Oak Beach! Here are some details:
Date:

Saturday December 9, 2017

Where: 57 Savannah Road, Oak BeachTime:

5:15–8:15 p.m.
This is an adults-only party. If you are attending the tree-lighting, please bring your children back home, and then return to Oak Beach Park to meet a shuttle bus to the party.
This will be a unique outdoor affair, set up in the Harrisons' front yard under tents. Please dress accordingly! The "Main Tent" (20 x 30 ft.) will have walls and will be heated, but be forewarned – this tent will not hold everyone at the same time. Think of it more as a "warming station." Additional tents will be set up with outdoor heaters, but these tents will not have walls. (Again, think "warming station.") High-top cocktail tables will be set up around the party, and there will be a few round tables and chairs for those who may need to sit.
There will be delicious food! Gourmet sandwiches, pasta, and salad will be provided by Mulberry Street in Babylon, and we will have a "soup and chili station" with homemade breads and a few hot soups courtesy of Panera.
Refreshments will include sodas, water, a beer keg, and red and white wine.
All parking will be in Oak Beach Park. Two shuttle buses will make continuous trips to the party and back. For a number of reasons – safety at night, access for those disabled, keeping roads open for buses' navigation – it is essential that unless you are walking to the party, you park in Oak Beach Park across the road (north) from the tree.
Due to somewhat limited space, we are inviting only current BBCA members and their immediate families—please, no guests.
Please RSVP!
As always, in order to plan for food and refreshments, please let us know if you plan to attend and how many will be in your party.

Stay Tuned for More Details
If you've gotten this far, you realize how dependent we will be on somewhat cooperative, albeit seasonable, weather. So, if weather reports by Wednesday, December 6, indicate that an outdoor party will not be feasible on the 9th, the party may be rescheduled and/or canceled. We will let you know by 12/6 if it's a go or not.

We're trying our best, folks, not to miss yet another event! And we put great faith in many of you seasoned and stalwart beach residents to embrace some chilly conditions for what will surely be a memorable holiday celebration.

We want to thank TOB for the shuttle buses and porta-potties, Fred Marsilio of The Beach Hut for his outdoor heaters, and, of course, Jamie and Tim Harrison for their location.
—Jed Meade, 11/20/2017
Save the Date for the BBCA Holiday Party!
We've just received exciting news that an Oak Beach family has generously offered to host our Holiday Party! Many details have to be worked out but, for now, please set aside the early evening of Saturday, December 9, for a gathering with food and refreshments and, no doubt, a visit from Santa!

Stay tuned for more details...
—Jed Meade, 11/4/2017
Election Day—Tuesday, November 7
Just a friendly reminder for you to take time to vote in the upcoming General Election. Our temporary polling place is located at the Cedar Beach Marina, Bob Sweeney Education Center, at the east end of the marina parking lot on the north side of Ocean Parkway. The polls are open from 6 a.m. until 9 p.m. on Tuesday, November 7.

Apart from doing your civic duty, it's important that elected officials see a strong turnout from beach residents. Any questions, feel free to contact Suffolk County Board of Elections at 631-852-4500 or go to the Suffolk Votes website, where you can find a full list of candidates and proposals.
—Jed Meade, 11/1/2017
Bike Path Public Meeting and Gilgo Erosion
Bike Path Update—Information Open House
The New York State Department of Transit will hold a Public Information Open House to discuss the proposed Ocean Parkway Shared-Use Bike Path Extension. The meeting will take place on Wednesday, October 25, between 4 p.m. and 8 p.m. at the West Bathhouse at Jones Beach, specifically at the Landing Restaurant on the second floor. Public parking will be available in Field 4. NYSDOT as well as the New York State Office of Parks, Recreation, and Historic Preservation will have representatives present to answer questions and receive comments on the proposed shared-use path project. Please see the attached flyer for more information.

The existing shared-use path is a continuation of the Ocean Parkway Coastal Greenway running through Jones Beach State Park and along the Ocean State Parkway, which ends at Tobay Beach. The proposed third phase of this project would continue the pathway from Tobay Beach along the north side of Ocean Parkway for 10 miles to Captree State Park. Plans include a new 10- to 13-foot wide accessible shared-use path providing access to the scenic waterfront and parkway, new bicycle parking areas at locations near existing parking facilities, new native planting to provide a buffer for the communities along the barrier island, and additional wildlife habitat.

Work is currently slated to begin in summer of 2019 and be completed in summer of 2020.

Erosion at Gilgo Beach
We want to thank NYS Senator Phil Boyle for his efforts to try to get the Army Corps to clean up the debris at the site of the old Gilgo Beach Coast Guard Station. The debris left over from the demolition decades ago continues to act as a groin and, most likely, causes accelerated erosion on the west side, directly in front of Gilgo Beach. We appreciate the Senator's efforts and hope that the Army Corps responds quickly.
--Jed Meade, 10/20/2017
---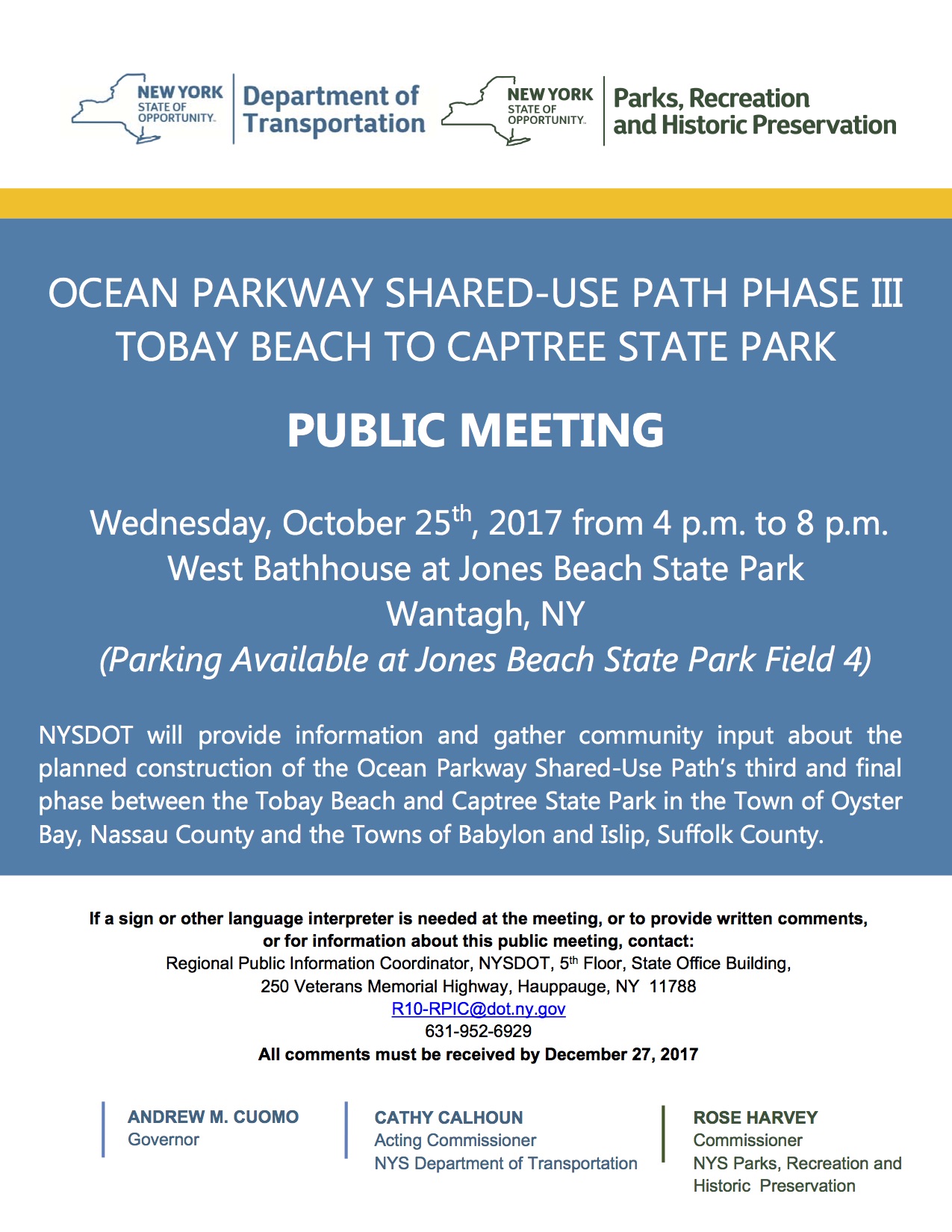 Community Tick Prevention Forum
Cornell Cooperative Extension of Nassau County is hosting a free Community Tick Prevention Education Forum on October 12, 7-9 pm at East Meadow Farm. See attached flyer for details. All are welcome, please share with anyone interested.
--Jed Meade, 10/5/2017
---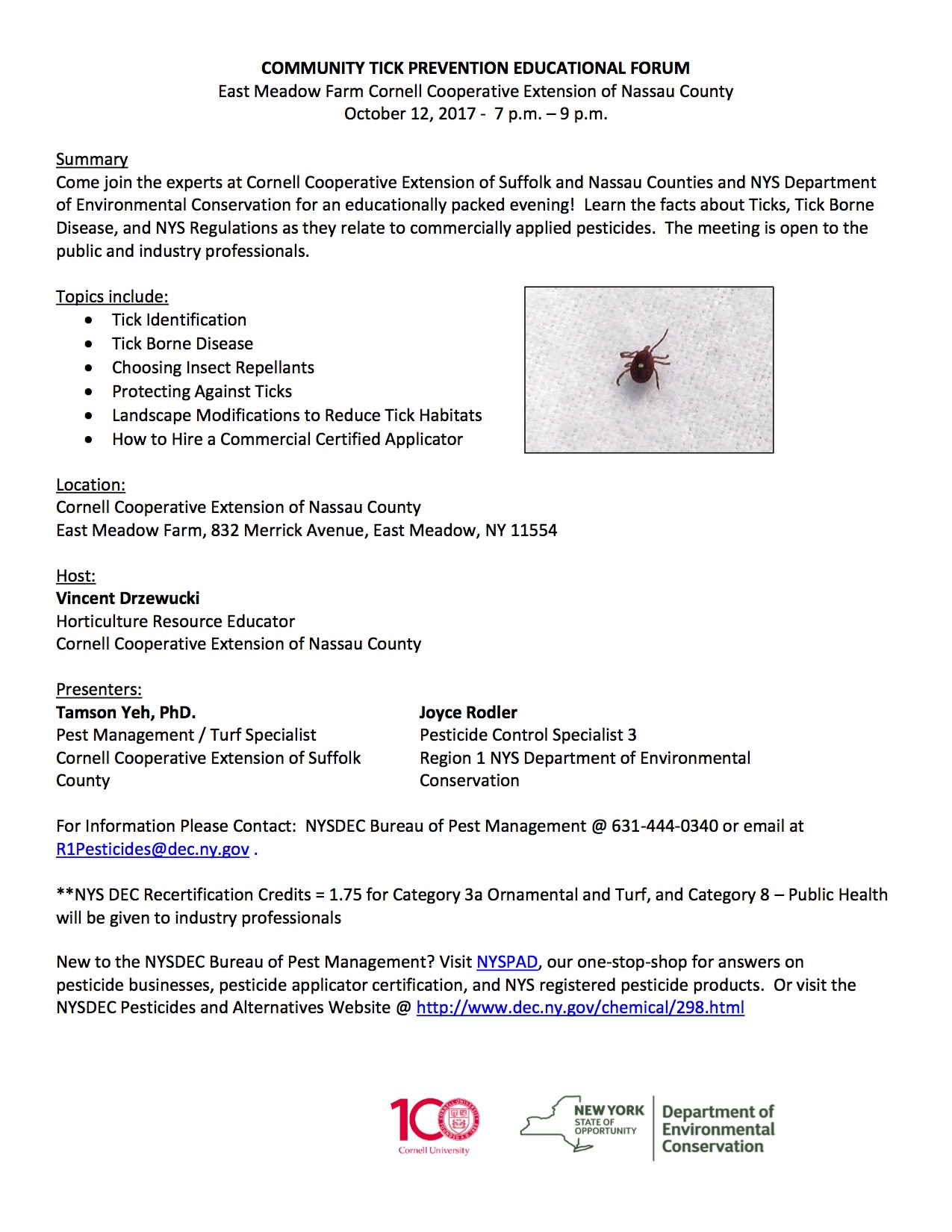 Town of Babylon Recycling Calendar
IMPORTANT REMINDERS FROM THE TOWN OF BABYLON:
Pick-up of bottles and cans alternates every Wednesday with pick-up of papers, except during holiday weeks when they will be picked up on your regular garbage day (Thursday or Friday).
E-Waste is no longer picked up curbside. Electronics can be dropped off at the Residential Recycling Facility in West Babylon or returned to place of sale. Arrangements for special pick-up can also be made. Residents should also explore online reimbursement programs for unwanted electronics.
Natural Christmas Trees will be picked up on the same days as your yard waste.
To report a concern, dial 311
To contact a specific Department, call (631) 957-3000
For questions regarding pickup, please call EnCon at (631) 491-3200.
Like the Town of Babylon on Facebook for Town news and events