Bike Path Public Meeting and Gilgo Erosion
Bike Path Update—Information Open House
The New York State Department of Transit will hold a Public Information Open House to discuss the proposed Ocean Parkway Shared-Use Bike Path Extension. The meeting will take place on Wednesday, October 25, between 4 p.m. and 8 p.m. at the West Bathhouse at Jones Beach, specifically at the Landing Restaurant on the second floor. Public parking will be available in Field 4. NYSDOT as well as the New York State Office of Parks, Recreation, and Historic Preservation will have representatives present to answer questions and receive comments on the proposed shared-use path project. Please see the attached flyer for more information.

The existing shared-use path is a continuation of the Ocean Parkway Coastal Greenway running through Jones Beach State Park and along the Ocean State Parkway, which ends at Tobay Beach. The proposed third phase of this project would continue the pathway from Tobay Beach along the north side of Ocean Parkway for 10 miles to Captree State Park. Plans include a new 10- to 13-foot wide accessible shared-use path providing access to the scenic waterfront and parkway, new bicycle parking areas at locations near existing parking facilities, new native planting to provide a buffer for the communities along the barrier island, and additional wildlife habitat.

Work is currently slated to begin in summer of 2019 and be completed in summer of 2020.

Erosion at Gilgo Beach
We want to thank NYS Senator Phil Boyle for his efforts to try to get the Army Corps to clean up the debris at the site of the old Gilgo Beach Coast Guard Station. The debris left over from the demolition decades ago continues to act as a groin and, most likely, causes accelerated erosion on the west side, directly in front of Gilgo Beach. We appreciate the Senator's efforts and hope that the Army Corps responds quickly.
--Jed Meade, 10/20/2017
---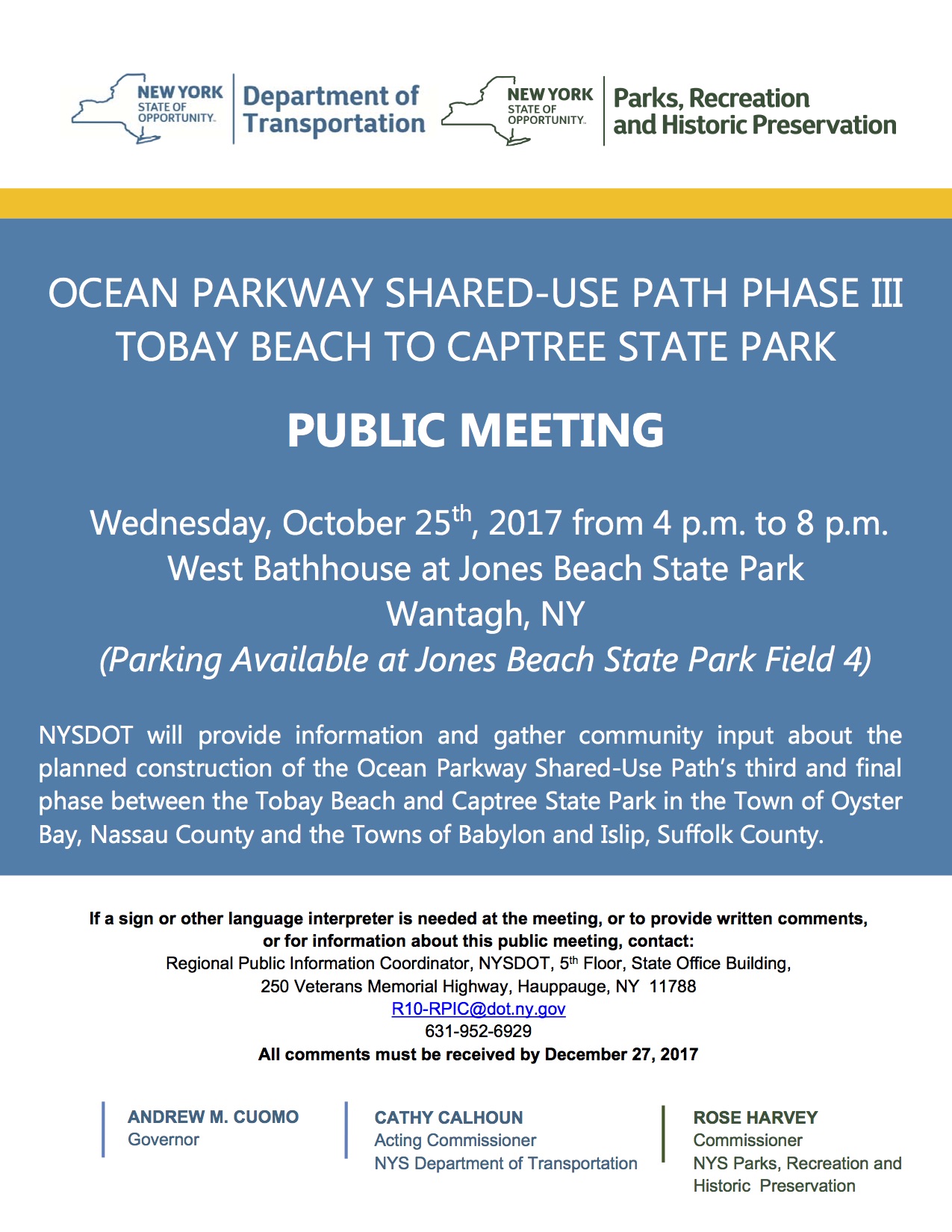 Community Tick Prevention Forum
Cornell Cooperative Extension of Nassau County is hosting a free Community Tick Prevention Education Forum on October 12, 7-9 pm at East Meadow Farm. See attached flyer for details. All are welcome, please share with anyone interested.
--Jed Meade, 10/5/2017
---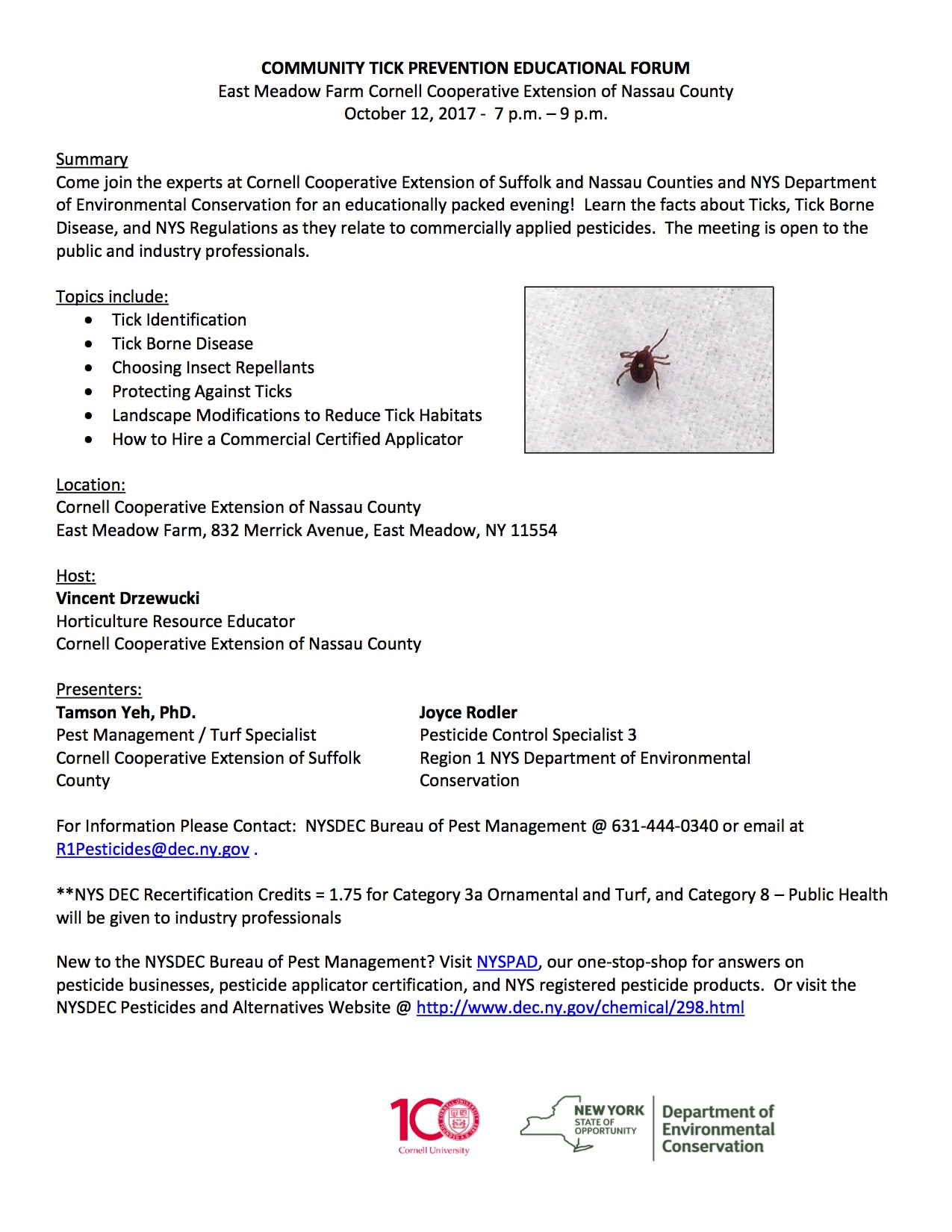 Town of Babylon Recycling Calendar
IMPORTANT REMINDERS FROM THE TOWN OF BABYLON:
Pick-up of bottles and cans alternates every Wednesday with pick-up of papers, except during holiday weeks when they will be picked up on your regular garbage day (Thursday or Friday).
E-Waste is no longer picked up curbside. Electronics can be dropped off at the Residential Recycling Facility in West Babylon or returned to place of sale. Arrangements for special pick-up can also be made. Residents should also explore online reimbursement programs for unwanted electronics.
Natural Christmas Trees will be picked up on the same days as your yard waste.
To report a concern, dial 311
To contact a specific Department, call (631) 957-3000
For questions regarding pickup, please call EnCon at (631) 491-3200.
Like the Town of Babylon on Facebook for Town news and events